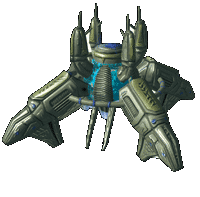 The Morphoratorus is an Alien unit in Earth 2160. It is formed out of a Replicatorus and needs 4 000 metal to transform itself into four Postomor Fighters or one Morphorator Light Cruiser.
Like the Replicatorus, it possesses no weapon systems of any kind.
Morphoratorus can transform itself into air assault units by using metal as its basic building material. A large storage hall full of metal is what this unit needs to transform into a Morphorator Light Cruiser or into three Postomor Fighters.
Ad blocker interference detected!
Wikia is a free-to-use site that makes money from advertising. We have a modified experience for viewers using ad blockers

Wikia is not accessible if you've made further modifications. Remove the custom ad blocker rule(s) and the page will load as expected.